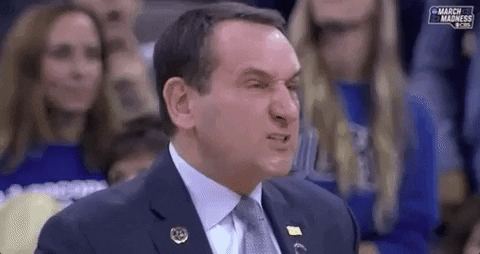 An NCAA tournament without Coach K and Dook? Eh. We'll manage.
The Fourteenth Kind Of Annual Uncle Crappy NCAA Final Four Challenge (Brought To You By Piper's Pub*) without you? That would be a shame.
But you're in luck, boys and girls! Unlike years past, the first round of the NCAA tournament doesn't start until Friday, so instead of this post being a last call of sorts, it is your 24-hour(ish) reminder: Git yer pix in soon.
Important things to remember: It's free to enter. I just need your final four, your semi-finalists, your champion and a title game final score, to use as a tiebreaker. I'll need those, submitted via your favorite social media platform (there will be bonus points* for anyone who submits and entry via TikTok), by noon Friday. And if you win, boys and girls, you'll enjoy $50 of food and beverages from the legendary Piper's Pub on me (or fifty American dollars, eligible to be exchanged for goods and services, for you out-of-towners).
There are some more rules and guidelines to keep in mind, but in general you won't find an easier college hoops pool than FKOAUCNFFC (BTYBPP*). Don't miss out, kids — get your entries in soon.
*Editor's note: Bonus points are not actually worth anything.